Bank offers mortgage lending from 17% annual for a term up to 20 years
Piraeus Bank in Ukraine renewed the mortgage lending on residential premises on very competitive terms. Nowadays clients can get a mortgage loan on the secondary housing market for interest rate starting from 17% in hryvna for up to 20 years.
The main advantages of the new mortgages offered by Piraeus Bank are that interest rate is one of the lowest on the market, long loan tenor that allows to lessen the monthly repayments, fast loan approval by the bank, and no penalties are charged if the loan is matured earlier. In addition, starting from the second year of lending the new model of loan rate fixing enables to gradually lessen the interest payments under the favorable market conditions. This possibility is enabled by floating loan rate that depends on the semiannual deposit rate of the bank.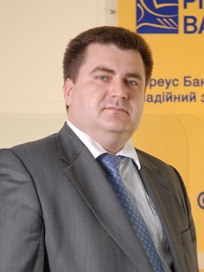 According to Dmytro Musienko, Piraeus Bank Board Member, Branch Network Department Director, the terms of motrgage lending provide the possibility of easing the loan repayment under favourable market conditions
During the first year of lending program the interest rate is fixed at 17% per annum whereas from second year and until the maturity of the loan the total interest rate is a sum of the six month deposit rate of the bank plus a fixed spread which varies from 4 to 4,5%. According to Dmytro Musienko, Piraeus Bank Board Member, this model of rate determination has certain advantages: "There is a strong interest rate downward trend in the deposit market. At the beginning of this year semiannual deposit rates fluctuated at 20-25% per annum, and now they amount to 14-17% annually, and at the beginning of 2011 they are expected to decrease even more".
Another important advantage of getting a mortgage in Piraeus Bank is a loan arrangement process convenient for client. Client has no need to collect all the documents on collateralized realty for getting a preliminary loan approval. This decision is taken during the one working day, and after the client chooses the desirable realty the loan arrangement will take no more than one week.
Bank offers mortgages for up to 70% of the housing value. Clients have opportunity to choose standard or annuity method of loan repayment. Loan granting fee amounts to 1.5% and is paid one off, there are no other fees or hidden commissions.
Note. Piraeus Bank is one of the major banking institutions of Southern and Eastern Europe with assets of EUR 56.6 bln and total equity of EUR 3.4 bln (as at 30.06.2010). Established in 1916, Piraeus Bank today has presence in Greece, Ukraine, Romania, Bulgaria, Albania, Egypt, Serbia, Cyprus as well as in the world financial centers of New York and London. Piraeus Bank S.A. leads Piraeus Bank Group, which consists of 10 banks and 21 companies covering the entire range of financial services.
In Ukraine Piraeus Bank provides a full range of banking services to individuals, small and medium enterprises and corporate clients.
Piraeus Bank is a member of Association of Ukrainian Banks, participant of the Fund of Guaranteeing the Deposits of Individuals. The Bank is also included in the list of banks authorized by the Pension Fund of Ukraine to make payments of pensions and financial assistance.
Piraeus Bank has the highest rating of deposits reliability of Piraeus Bank provided in March 2009 (grade "5"), that shows the bank's capacity to make payments on existing deposits timely and in full.
Piraeus Bank Press Service in Ukraine
Andriy Sakhno
phone/fax: +38(044)495-8888
e-mail: asakhno@piraeusbank.ua
22.06.2022
Gross period for credit card holders

09.06.2022
26.05.2022
Information for clients!
Technical works 26.05.2022