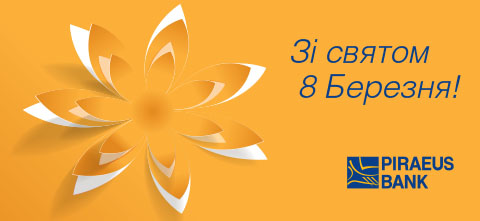 Милі жінки,
напередодні міжнародного жіночого дня щиро вітаємо зі святом та бажаємо захоплення і поваги оточуючих, любові й теплоти від рідних сердець, задоволення і насолоди від життя, приємних сюрпризів та гарних подарунків.
Зичимо чарівних почуттів, прекрасного настрою й непереможного оптимізму.
Нехай щастя буде навкруги, а в душі панує гармонія і спокій!
Із найкращими побажаннями чарівним жінкам,
Ваш Піреус Банк
05.09.2019
Piraeus Bank took the 1st position in the rating of the most sound mid-sized retail banks in August, 2019
The rating was conducted by financial magazine "Dengi"
02.09.2019
PIRAEUS BANK ICB JSC announces the tender for selection of audit firm

29.08.2019
Piraeus Bank received in August 2019 a confirmed uaAA long-term credit rating on the national scale by Standard-Rating RA