News archive
Piraeus Bank will organize a unique exhibition 'Our Athos'
07 April 2016
Piraeus Bank in Ukraine invites Kiev citizens and guests to visit a unique exhibition of Greek photographer Kostas Asimis – one of a few photographers in the world who is allowed to take pictures of Mount Athos – 'Our Athos', which is held under the patronage of Piraeus Bank in honor of the 100th anniversary of the international Group Piraeus Bank foundation, states the press service of Piraeus Bank.
We welcome to admire the views of the legendary Mount Athos, to feel it's spirit and appreciate the beauty from 16 to 25 April in the 'Art Hall D12' at Desyatynna street 12.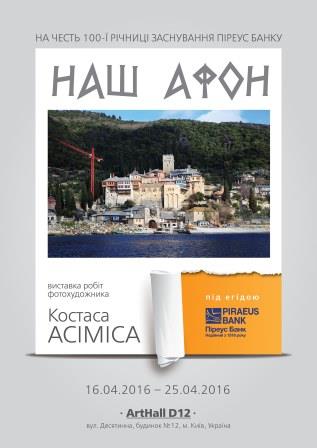 'By combining business and social responsibility, Piraeus Bank Group systematically develops its relations with social partners through activities aimed at protection and preservation of cultural heritage. Adopting the international experience of the Group, we decided to bring the project 'Our Athos' to present it to Kiev citizens and guests. In honor of the 100th anniversary of the the international Group Piraeus Bank establishment, we want to share with gallery attendees the unique historical and spiritual project' – commented Sergey Naumov, CEO of the Piraeus Bank.
Kostas Asimis photoexhibition is a result of creative activity that lasted during 30 years of shooting the monasteries and temples of the Holy Mount Athos, as well as daily life, visiting pilgrims and, of course, the extraordinary beauty of nature. Moreover, for a long time the territory of the monastic republic remained untouched by women and photo and video shooting was minimized.
The exposition is free and available for attendance from 10 a.m. till 6 p.m.