On May 30, 2012 Piraeus Bank Group announced its financial results for Q1 2012. After the EUR 4.7 billion recapitalization held in the frame of the advance of EUR 18 billion made by the Hellenic Financial Stability Fund (HFSF) to the 4 major Greek banks, Piraeus Bank total capital adequacy ratio was restored to 9%.
According to Q1 2012 results the Piraeus Bank Group total assets amounted to EUR 47.5 billion, gross loans to EUR 35.9 billion, deposits portfolio to EUR 20.9 billion.
Net revenues for the Group increased by 4% to EUR 392 million despite the challenging market conditions and at the same time Operating Expenses were reduced by 8% to EUR 174 million. As a result pre-Tax and provision profit was increased by 18% to EUR 217 mio compared to EUR 183 mio for the same period last year. While the effort to improve the credit quality of the portfolio resulted to increased expenses for Loan Loss Provisions, the recognition of the remaining deferred tax related to the PSI resulted to a Profit after Tax of EUR 298 million compared to a profit of EUR 9 million for the same period in last year.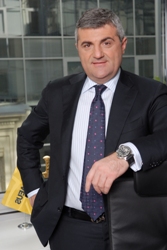 Yannis Kyriakopoulos, Piraeus Bank in Ukraine Head of Supervisory Board: "Piraeus Bank Group is now well-capitalized and sustainable that ensures its ability to promote its subsidiaries abroad"
"The Group's financial results for Q1 2012 show that after the recapitalization, the Bank's total capital adequacy ratio is restored to 9% that exceeds the requirements of the European Banking Authority (EBA) that established the Core Tier I at 8.0%. Despite the unfavorable conditions on the European banking market the Group managed to increase its net revenue for 4% and pre-tax and provision profit for 18% in comparison with Q1 2011. Piraeus Bank Group is now well-capitalized and sustainable that ensures its ability to promote its subsidiaries abroad", Piraeus Bank in Ukraine Head of Supervisory Board Yannis Kyriakopoulos said.
Note. Piraeus Bank is one of the major banking institutions of Southern and Eastern Europe with assets of EUR 47.5 bln (as of 31.03.2012). Established in 1916, Piraeus Bank today is presented in Greece, Ukraine, Romania, Bulgaria, Albania, Egypt, Serbia, Cyprus as well as in the world financial centers of New York and London. Piraeus Bank S.A. leads Piraeus Bank Group, which consists of 10 banks and 21 companies covering the entire range of financial services.
In Ukraine Piraeus Bank provides a full range of banking services to individuals, small and medium enterprises and corporate clients. Piraeus Bank is a member of Association of Ukrainian Banks, Forum of Leading International Financial institutions (FLIFI) participant of the Fund of Guaranteeing the Deposits of Individuals. The Bank is also included in the list of banks authorized by the Pension Fund of Ukraine to make payments of pensions and financial assistance.
Piraeus Bank has the highest rating of deposits reliability provided by "Credit-Rating" Agency (grade "5"; last update took place on 21.06.2012), that shows the bank's capacity to make payments on existing deposits timely and in full. The Bank has «uaA» long-term credit rating with the forecast "stable" provided by "Credit-Rating" (updated on 21.06.2012). This long-term rating belongs to the group of investment ratings that is one of the highest ratings given to banks operating on the Ukrainian market.
Piraeus Bank in Ukraine Press Service
Kateryna Kalynovska
cell: +38(067)688-62-14
e-mail: kkalynovska{at}piraeusbank.ua