News archive
Piraeus Bank updated the interface of winbank online platform
15 April 2014
Piraeus Bank updated the interface of winbank online platform, among the main benefits of which are: user-friendliness, efficiency and focus on customer needs.
The new interface is aimed not only at improving the aesthetic component of the page, but also at its institutional part. Bank will promptly inform its customers on the latest news, advice on how to secure their electronic means in the best way, as well as placing many other useful publications.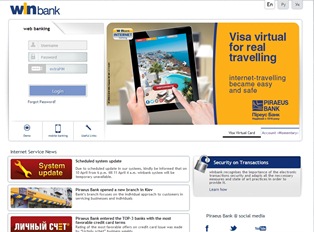 In addition, the mobile version of the new platform has become much easier - you can now easily enter the mobile version directly from the registration page of any device. Also for the convenience such popular services as deposit calculator, feedback form etc. have been replaced to the home page. A nice bonus was also the demo version of winbank, for those users who are not connected to the system and first would like to get acquainted with all the advantages, and only then complete the registration process, which is also quite simple and will not take much time.
Piraeus Bank previously informed about the implementation of new features. The Bank reported that all credit card customers' now have the ability in addition to repayment of their credit cards remotely through WinBank and producing their payment receipt, also to block and unblock their credit cards by themselves remotely as well as re-order a credit card due to loss or damage at a lower cost.
Note about Piraeus Bank
Piraeus Bank Group is one of the major banking institutions of Southern and Eastern Europe. Piraeus Group's pro-forma total assets amount to €92 bn, net loans to €60,4 bn and customer deposits to €54,3 bn (at the end of December 2013).

Piraeus Bank entered the Ukrainian market in 2007.

Piraeus Bank has the highest rating of deposits reliability provided by "Credit-Rating" Agency (grade "5"as of latest rating of 01.04.2014).

The Bank is authorized by the Pension Fund of Ukraine to make payments of pensions and financial assistance. The Bank is a member of Fund of Guaranteeing the Deposits of Individuals and Forum of Leading International Financial institutions (FLIFI).

Piraeus Bank in Ukraine Press Office
tel: +38(044)495-88-88
e-mail: press@piraeusbank.ua