News archive
Piraeus Bank has determined three winners of the "Incredible trip!" special offer
11 June 2019
Piraeus Bank has determined three winners of the "Incredible trip!" special offer, which was launched intentionally for the holiday season to provide the Bank's customers with the possibility to win one of three travel suitcases for their trips.

Thus, according to the special offer conditions the winners are chosen every two weeks with random.org service among all the private individuals who placed at Piraeus Bank a deposit for the amount more than UAH 50,000 and for the duration 3 months.The special offer will last until the end of June 2019. The deposit rate in Piraeus Bank is up to 16.5% per annum in UAH.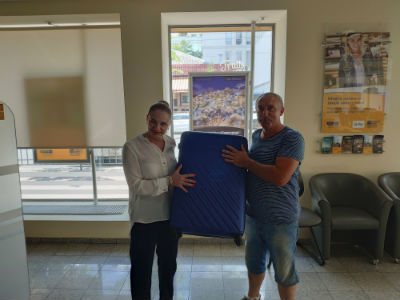 The key advantages of deposits in Piraeus Bank are the Bank's reliability and creditworthiness, which has been recently confirmed by assigning a long-term credit rating at uaAA level by rating agency "Standard-Rating". Thus, Piraeus Bank entered the TOP-3 banks by the level of reliability of bank deposits according to the rating agency "Standard-Rating" and ranked 7th in the ranking according to the magazine "New Time", which was compiled by the investment company DragonCapital. Besides the Bank is a member of the Deposit Guarantee Fund.