News archive
Piraeus Bank proposes special offer for legal entities and private entrepreneurs.
21 January 2010
Piraeus Bank has introduced a special offer for the small and medium business. Since June 2009 firms, companies and private entrepreneurs have an opportunity to open current accounts in the new branches of Piraeus Bank absolutely free of charge. From now entrepreneurs can save 100 hryvnas on each account they open.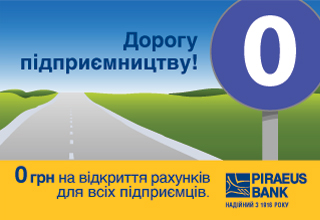 According to Piraeus Bank's retail banking director' Christos Ktenidis, this proposal is focused on supporting small and medium size businesses and private entrepreneurs. "Piraeus Bank Group traditionally focuses into the needs of small and medium size enterprises in its different countries of presence and tries to support this sector of the economy that is one of the main driving forces for growth" – Mr. Ktenidis said. However, this offer can be used by any legal entity.

This offer is available until the 30th of September 2009. New branches of Piraeus Bank are located in all regions of the Bank`s presence. For more detailed information you can reffer to the nearest branch of Piraeus Bank or to our Call Center 8 800 30 888 08 (all calls from local phones inside Ukraine are free of charge).
Note. Piraeus Bank is one of the major banking institutions of Southern and Eastern Europe with assets of 53,8 bln (as of 31.03.2009). Established in 1916, Piraeus Bank today has presence in Greece, Ukraine, Romania, Bulgaria, Albania, Egypt, Serbia, Cyprus as well as in the world financial centres of New York and London. Piraeus Bank S.A. leads Piraeus Bank Group, which consists of 10 banks and 21 companies covering the entire range of financial services. The Group's personnel are 14000 employees.
In Ukraine Piraeus Bank provides a full range of banking services to individuals, small and medium business and to corporate clients. The regional network of Piraeus Bank ICB covers 14 regions of Ukraine. Piraeus Bank is a member of Association of Ukrainian Banks, participant of the Fund of Guaranteeing the Deposits of Individuals. The Bank also included in the list of banks authorized by the Pension Fund of Ukraine to make payments of pensions and financial assistance.

Piraeus Bank Press Service in Ukraine
Andriy Sakhno
phone/fax: +38(044)495-8888
e-mail: asakhno@piraeusbank.ua