Piraeus Bank in Ukraine, a member of Piraeus Bank Group, launched a new car loan program. At present, clients will have an opportunity to choose any car model being sold through the official car dealership network, and select the most convenient way of repayment. "The future car owners will get the low interest rate irrespectively to the loan tenor, and after two years they could pay less due to the floating rate", - told Ruslan Mangushev, manager for car loan product at Piraeus Bank in Ukraine.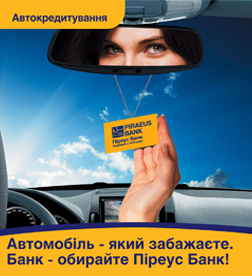 Bank offers the most remunerative and transparent car loan terms on the market. Loan tenor amounts up to 7 years, interest rate is fixed for the first two years and starts from 17% per annum. Starting from the third year the interest rate becomes floating and its size depends on the 6 month deposit rate in Piraeus Bank in Ukraine. Upfront fee for bank's services amounts to 2% paid one off, and there is no other monthly or hidden commissions. Client can choose either classical or annuity repayment scheme with possibility of early maturity loan repayment without any penalties. The loan minimum amount is UAH 30.000, the maximum – UAH 400.000.
According to Ruslan Mangushev, clients can get the car loan in Piraeus Bank easily and quickly: "Advanced procedure of borrower verification and cooperation with car dealers allows our clients to get the decision on loan during only two days. Piraeus Bank treats its clients very loyally. We offer an individual decision for every client according to his or her situation and financial solvency. For instance, the borrower can count on loan as his or her aggregate monthly income starts from UAH 2.000".
Note. Piraeus Bank is one of the major banking institutions of Southern and Eastern Europe with assets of EUR 56.6 bln and total equity of EUR 3.4 bln (as at 30.06.2010). Established in 1916, Piraeus Bank today has presence in Greece, Ukraine, Romania, Bulgaria, Albania, Egypt, Serbia, Cyprus as well as in the world financial centers of New York and London. Piraeus Bank S.A. leads Piraeus Bank Group, which consists of 10 banks and 21 companies covering the entire range of financial services.
In Ukraine Piraeus Bank provides a full range of banking services to individuals, small and medium enterprises and corporate clients.
Piraeus Bank is a member of Association of Ukrainian Banks, participant of the Fund of Guaranteeing the Deposits of Individuals. The Bank is also included in the list of banks authorized by the Pension Fund of Ukraine to make payments of pensions and financial assistance.
Piraeus Bank has the highest rating of deposits reliability of Piraeus Bank provided in March 2009 (grade "5"), that shows the bank's capacity to make payments on existing deposits timely and in full.
Piraeus Bank Press Service in Ukraine
Andriy Sakhno
phone/fax: +38(044)495-8888
e-mail: asakhno@piraeusbank.ua