On December 8, Piraeus Bank held a joint press conference with representatives of the "Soloists of Donbas" Chamber Orchestra in Donetsk, dedicated to the charity event "Music for little hearts ". In the frame of the event, "Soloists of Donbass" Chamber Orchestra will have a tour for orphanages of Donetsk region, giving a New Year concert for young viewers. The main sponsor of the event is Piraeus Bank in Ukraine.
On December, 8, a charity concert in support of the event "Music for little hearts" will be held in the new art-exhibition center "Art-Donbass".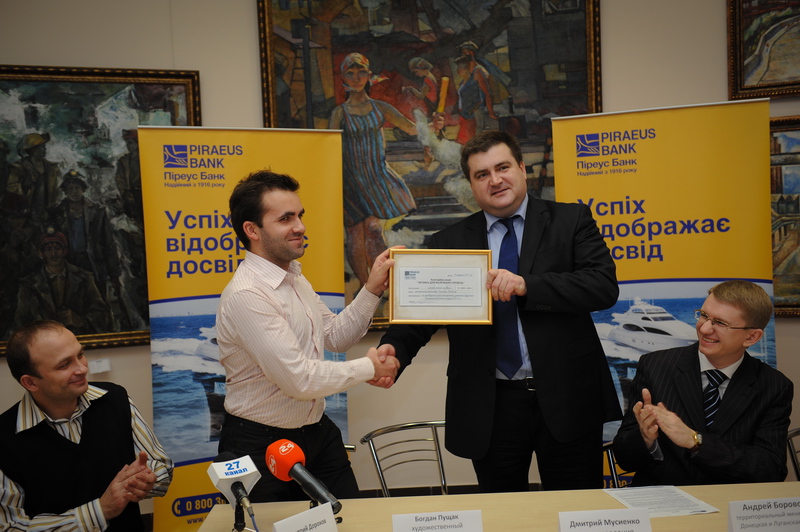 Dmitry Musiyenko, Piraeus Bank in Ukraine member of Management Board (right) gives check for the charity event "Music For Little Hearts" to Bogdan Puschak, conductor of "Soloists of Donbass" orchestra 
According to Dmitry Musiyenko, Piraeus Bank in Ukraine member of the management board, cooperation with "Soloists of Donbass" Chamber Orchestra has become a good tradition for Piraeus Bank in Ukraine. "Last year our bank was the main sponsor of the concert of this young talented team, when our customers were invited to the event. This year we decided not to limit the concert to the bank's partners and local officials, but also to finance a series of charity concerts of "Soloists of Donbass" in orphanages of Donetsk region, - Dmitry Musiyenko said. - At the same time we appeal to all who care to join this event and assist to the spiritual and cultural development of disadvantaged groups, increasing the budget of event. Due to it a larger number of orphans and lonely elder people will be able to get a Christmas present and join the real art. "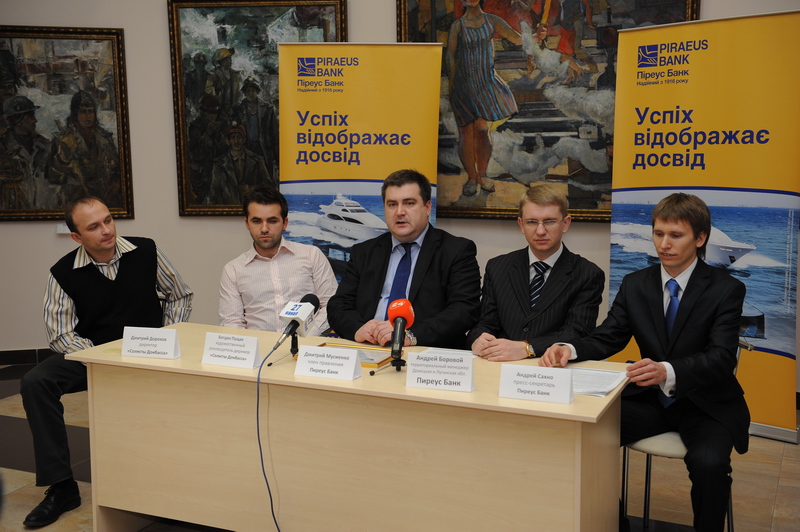 Piraeus Bank appeals to everyone who cares to support the charity event and give the orphans possibility to enjoy art
In his turn, director of "Soloists of Donbass" Chamber Orchestra Dmitry Dorokhov said: "Piraeus Bank is our first serious and reliable partner. This is the second large project we are doing together. I want to thank the special people who work in Piraeus Bank and do good - not just empty words. "
During the press conference Dmitriy Musiyenko also said that despite the bad stretch for the banking business in Ukraine and Europe, Piraeus Bank will continue to participate in charitable and social projects. "Today we reached the operating profitability of our business. As a result of third quarter of 2011 Piraeus Bank in Ukraine has a profit of UAH 15.5 million"- member of the Board said.
Due to the active lending to small and medium-seized businesses, mortgage lending to private customers, and also due to the funding and investments, provided by the parental institution of Piraeus Bank Group - Piraeus Bank S.A. - since the beginning of the year the total assets of Piraeus Bank in Ukraine grew up by 30% or UAH 1,1 billion to UAH 4,686 billion. During the 3 quarters of 2011 Piraeus Bank in Ukraine has issued new loans for more than UAH 500 million, with a total loan portfolio amounted to UAH 2,839 billion as of October 1, 2011.
In the third quarter of this year the registered share capital of the bank grew by 93% or UAH 785 million up to UAH 1,628 billion. Piraeus Bank is now very well capitalized and demonstrates the high reliability of the institution.
"Soloists of Donbass" Chamber Orchestra was created in 2007 as a youth chamber orchestra "ARS NOVA", which consisted of the best students and graduates of the Donetsk State Academy of Music named after Sergei Prokofiev. In 2009 the team won the all-Ukrainian competition of chamber orchestras "Prime Band 2009" in Kiev. The orchestra's artists are young and talented musicians, who are featured with artistry, the highest musical and performing skills and high discipline.
Founder, art director and conductor Bogdan Puschak is the diploma winner of the international master classes in Vienna (Austria), assistant of the Austrian conductor Kurt Schmid. 
Note. Piraeus Bank is one of the major banking institutions of Southern and Eastern Europe with assets of EUR 55,6 bln and total equity of EUR 3,1 bln (as of 30.09.2011). Established in 1916, Piraeus Bank today has presence in Greece, Ukraine, Romania, Bulgaria, Albania, Egypt, Serbia, Cyprus as well as in the world financial centres of New York and London. Piraeus Bank S.A. leads Piraeus Bank Group, which consists of 10 banks and 21 companies covering the entire range of financial services.

In Ukraine Piraeus Bank provides a full range of banking services to individuals, small and medium enterprises and corporate clients. Piraeus Bank is a member of Association of Ukrainian Banks, Forum of Leading International Financial institutions (FLIFI) participant of the Fund of Guaranteeing the Deposits of Individuals. The Bank is also included in the list of banks authorized by the Pension Fund of Ukraine to make payments of pensions and financial assistance.

Piraeus Bank has the highest rating of deposits reliability provided by "Credit-Rating" Agency (grade "5"; last update took place on 07.12.2011), that shows the bank's capacity to make payments on existing deposits timely and in full. The Bank has «uaA» long-term credit rating with the forecast "stable" provided by "Credit-Rating" (updated on June, 21 2011). This long-term rating belongs to the group of investment ratings that is one of the highest ratings given to banks operating on the Ukrainian market. 

On December, 5 Piraeus Bank in Ukraine became one of the most dynamic banks of 2011 (among the III group of banking institutions according to the volume of assets) and one of the three best banking employers according to the UKRAINIAN BANKER AWARDS 2011 presented by the powerful business magazine "InvestGazeta".